Address:
Gemeentelijk Sportcentrum De Krekel
Heilig Hartstraat 15
8870 Izegem
Belgium
Parking: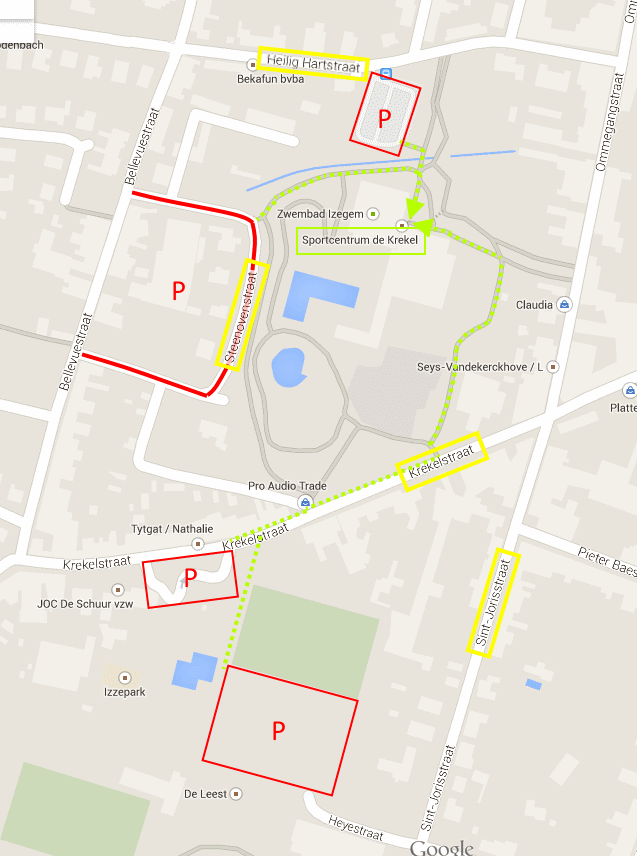 A small (free) parking that fits 75 cars can be accessed via the entrance at Heilig Hartstraat.
A larger and more accessible (free) car park (170 cars) can be found near cultural centre De Leest, Sint-Jorisstraat 62, Izegem.
In Steenovenstraat you can park (free) along the side of the road.
In Krekelstraat, near JOC De Schuur, there is a small (free) car park for some 20 vehicles.
Using the hiking trail you are quickly lead back to the sports centre from each of these parking locations.
There are no services available for camping cars, but you can store the vehicle in the car park at the cultural centre.
Lodging:
Izegem has many options of accommodating you for an overnight stay in various price ranges.
Download an overview of lodging facilities in and around Izegem:
Hotels_near_Izegem.pdf
.